Solidarity & Resistance
Resources
Alfred, Taiaiake and Lowe, Lana. 2006. "What are Warrior Societies?" New Socialist, Issue 58.
Day, Richard and Haberle, Sean. 2006. "Anarchist-Indigenous solidarity at the Six Nations' barricade" New Socialist, Issue 58.
Deckha, Nitin. January 16, 2008. Foucault, "Power and Strategies" and "Eyes of Power" (lecture notes).
Foucault, Michel. "Power and Strategies" and "The Eye of Power," in Colin Gordon ed., Power/Knowledge: Selected Interviews and Other Writings 1972-77.
Gordon, Todd. 2006. "Canadian capitalism and the dispossession of indigenous peoples". New Socialist, Issue 58.
Johnston, Barbara Rose. 2001. "Anthropology and Environmental Justice: Analysts, Advocates, Mediators, and Troublemakers." In Carole L. Crumley (ed) New Directions in Anthropolgoy and Environment. Lanham, Md.: Alta Mira, pp. 132-149.
Kehoe, Alice B. 2006. North American Indians: A Comprehensive Account. Pearson-Prentice: New Jersey.
Nader, Laura. 1976. "Professional standards and what we study," in Ethics and anthropology. Edited by M. Rynkiewich and J.P. Spradley, pp. 167-82. New York: Wiley
Nader, Laura. 1989. "Post-interpretive anthropology. Anthropological Quarterly 61:149-59.
Robbins, Richard H. 2001. Cultural Anthropology: A problem based approach. (3rd ed.) Itasca: F.E. Peacock.
Scheper-Hughes, Nancy. 1995. The Primacy of the Ethical: Propositions for a Militant Anthropology. Current Anthropology 36(3): 409-440
Scheper-Hughes, Nancy. 2004. Parts unknown: Undercover ethnography of the organs-trafficking underworld. Ethnography 5(1): 29-73
Simmons, Deborah. 2006. "Socialism from below and indigenous resurgence." New Socialist, Issue 58.
Steckley, John L. and Cummins, Bryan D. 2001. Full Circle: Canada's First Nations. Prentice Hall: Toronto.
Links
News, updates, and other resources regarding the reclamation
Autonomy and Solidarity website
Community Friends website
Information on residential schools, forced assimilation and other injustices
Click "About us" then "History" for information about Deskaheh as well as the Declaration on the Rights of Indigenous Peoples.
Information, picture, and links about the Six Nations land reclamation provided by the McMaster Indigenous studies department
Information on Haudenosaunee traditional governance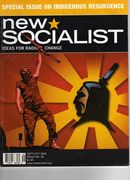 Newspaper produced on Six Nations of the Grand River Reserve
Six Nations of the Grand River radio station