Solidarity & Resistance
Present: Kanonhstaton
In this section I provide a very brief background on Kanonhstaton, also known as the Caledonia land reclamation. My summary is necessarily brief in the interest of scope, however I have included a number of useful links with more detailed information (See the "Resources" section). Information up to 2007 is easily available from a number of websites and news sources, however I will update this site with ongoing news and events (See the "News" section). In addition, I briefly explore what it means to stand in solidarity with Six Nations Haudenosaunee.
In February of 2006, Six Nations protestors set up barricades and began occupying (reclaiming) a portion of land known as Kanonhstaton (Douglas Creek Estates). Shortly thereafter, the developers filed an injunction, which was granted by Judge Marshall and served to the protestors on March 3rd. The protesters burned the injunction, and refused to vacate the site. In April of 2006, the Ontario provincial police raided the site, but were driven back by protestors, anarchists, and other community members who immediately flooded to the site when informed of the raid.
Presently, Six Nations Haudenosaunee are negotiating with the federal government regarding compensation for Six Nations land that has been settled, unpaid leases, as well as the return of unsettled land belonging to Six Nations.
Henco Brothers: Victims?
Henco industries purchased land and began development of a subdivision they named Douglas Creek Estates. The land in question was reclaimed in February of 2006 by Six Nations protesters, who claim legal ownership under the Haldimand Proclamation, never having sold the land.
Those opposed to the "occupation" of the land in question often point to the Henco brothers as "innocent victims", blue collar workers who are prevented from making a livelihood. However, it should be known that Henco industries was compensated full market value for the land in question by the provincial government.
Solidarity
What is solidarity? This is the definition used by anti-racist feminist Chandra Mohanty: Solidarity means that I stand with you, against another (Day & Haberle 2006). Standing with the other necessarily differentiates those in solidarity from those with which one is standing. This distinction is an important aspect of solidarity. In terms of settler solidarity, Richard Day, an anarchist and scholar based out of Queen's University, and Sean Haberle (a grad student at Queens) caution against excessively identifying with the Other (in this case, the Haundenosaunee), because it, "especially in colonial contexts, can lead to the perpetuation of unequal relations of power."
They also caution, however, about taking too much distance by not making any effort to know the other. Instead, an important aspect of solidarity is building personal relationships and trust. To quote Day and Haberle (2006), "For, after the barricades come down, it is only the social relationships that will remain, intangible but effective, productive and lasting."
The promise of solidarity, according to Day and Haberle, is one person, group or nation working with other people, groups or nations to achieve common goals and "perhaps learn something along the way."
Below: "Solidarity" Art by Tania Willard, Secwepemc Nation. In New Socialist Sept-Oct 2006
Below: Caledonia land reclamation. Photo accessed from http://www.mcmaster.ca/indigenous/SixNationsLandClaim.htm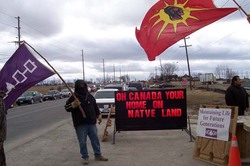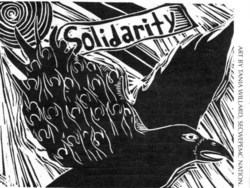 In practice: Solidarity with Six Nations
In practice, many groups stand in solidarity with Six Nations, including unions and community groups. A few examples of such solidarity groups include United Steelworkers Union Local 1005, in Hamilton Ontario, as well as Community Friends, a Caledonia based group of supporters and Six Nations. Additionally, there is Hamilton Solidarity with Six Nations, supported by CUPE 3906 and based out of McMaster, which consists of professors, graduate and undergraduate students and other community members.
What do these groups do? Raising awareness is one important aspect, through informational demonstrations with speakers and fliers. Building ties between communities is another important goal of Community Friends and Hamilton Solidarity. Community Friends, for example, has organized Friendship potlucks to build and strengthen ties between Six Nations and Caledonians.
The Haldimand Proclamation of 1784
According to the Haldimand Proclamation of 1784, Six Nations and their allies were allotted six miles on either side of the Grand River from its mouth to source. Verbatim, the Haldimand Proclamation states:
Frederick Haldimand Captain General and Governor in chief of the province of Quebec and Territories depending thereon etc etc etc General and Commander in Chief of His Majesty's Forces in said province and the Frontiers thereof -- etc -- etc -- etc --
------- Whereas His Majesty having been pleased to direct that in consideration of the early attachment to his cause manifested by the Mohawk Indians and of the loss of their settlement which they thereby sustained -- that a convenient tract of land under his protection should be chosen as a safe and comfortable retreat for them and others of the Six Nations, who have either lost their settlements within the Territory of the American States, or wish to retire from them to the British -- I have at the earnest desire of many of these His Majesty's faithful allies purchased a tract of land from the Indians situated between the Lakes Ontario, Erie and Huron, and I do hereby in His Majesty's name authorize and permit the said Mohawk Nation and such others of the Six Nation Indians as wish to settle in that quarter to take possession of and settle upon the Banks of the River com- monly called Ouse or Grand River, running into Lake Erie, allotting to them for that purpose six miles deep from each side of the river beginning at Lake Erie and extending in that proportion to the head of the said river which them and their posterity are to enjoy for ever. -------
Given under my hand and seal at arms at the Castle of St. Lewis at Quebec this twenty-fifth day of Oc- tober one thousand seven hundred and eighty-four and in the twenty- fifth year of the reign of our Sover- eign Lord George The Third by the Grace of God of Great Britain, France and Ireland King Defender of the Faith and so forth.
Fred- Haldimand
-----By His Excellency's Command-----
R. Mathews
-Grant-
Governor Haldimand
-to-
The Six Nations
Dated 25th Oct. 1784
Prov. Registrar's Office
Quebec 23rd June, 1862