Solidarity & Resistance
Resistance in the 1920s: Deskaheh
As previously mentioned, the purpose of this website is to show some of the history and complexity surrounding ongoing resistance at Six Nations, and through the presentation of this information, provide an alternative perspective to that common in the dominant media (i.e. of native protesters as "militant", "insurgent", "dangerous"). Deskaheh's struggles in the 1920s demonstrate the long history of Six Nations resistance. Additionally, this section provides a context for historical and ongoing grievances with the Canadian federal government, as well as a background for ongoing tensions between elected and traditional leadership.
Deskaheh, Sovereignity, & the League of Nations
Deskaheh (also known as Levi-General, 1873-1925) was a Cayuga sachem and the official speaker of the Six Nations Iroquois. At this time, the community was still governed by the traditional, hereditary form of government, which was set down by the Great Law of Peace (Kaianerekowa). In 1920 and 1923, Deskaheh attempted to persuade the League of Nations regarding the matter of Iroquois sovereignty. In 1923, when he went to the League of Nations in Geneva with this plea, he received support from a number of nations, including Estonia, Ireland, Panama, and Persia. However, Britain intervened, and the proposal was dropped. The following year Deskaheh took his case to the King, but with no effect.
(Source: Steckley & Cummins, 2001; Kehoe, 2006)
Below: photo of Deskaheh. (Accessed from the UN Division for Social Policy and Development webpage, 2003. www.un.org/esa/socdev/unpfii/pfii/history.htm. Photo courtesy of the Centre d'Iconographi Genevoise, Collections BPU, Switzerland.)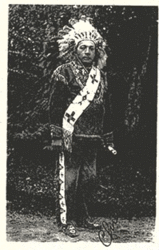 Imposition of Elected Council: 1920s
In Deskaheh's absence, the Canadian federal government ruled that Six Nations could no longer be governed by traditional means of governance and imposed the elected council system, without consulting the community. The RCMP changed the locks on the confederacy council house, so that traditional council could no longer meet there. The community has been divided on the issue of traditional versus elected governance systems since.
(Source: Steckley & Cummins, 2001)
Haudenosaunee Reclaim Council House: 2007
On January 1st, of 2007 the Haudenosaunee celebrated the new year by returning to the confederacy council house. All Six Nations people and supporters were invited to share what Linda Powless, of the Turtle Island News called, "a turning point in their collective history" and "a peaceful movement to begin the healing process and restore Haudenosaunee identity to Six Nations."
(Linda Powless, press release. Accessed from http://reclamationinfo.com/?p=61)
Traditional Haudenosaunee government is being recognized as well in terms of ongoing negotiations with the federal government in Caledonia.
Below: Six Nations Confederacy Council at Grand River 1898. (Accessed from www.kahnawakelonghouse.com/index.php?mid=1)